Immigration Attorney Los Angeles – Elsamartinezlaw.com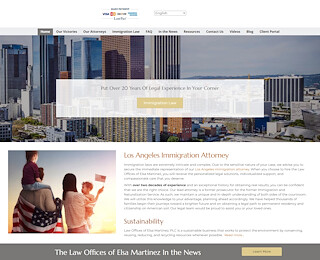 Speaking with an immigration attorney in Los Angeles just might be the smartest decision you ever made. If you're facing deportation, have been detained by ICE, or are interested in learning your rights on US soil, call The Law Offices of Elsa Martinez at 213-489-5205 to discuss the details of your case with a lawyer.
Immigration Attorney Los Angeles
Después de una lesión su vida tal vez ya no sea la misma. Su lesión puede haberle causado que falte a su trabajo, lo cual significa que puede haber perdido su ingreso – y en algunos casos, usted posiblemente no tenga su trabajo al volver de su recuperación. Si usted ha sido herido, usted merece que la parte de su historia sea escuchada.
Abogado Alejandro Padua